AEB Interurban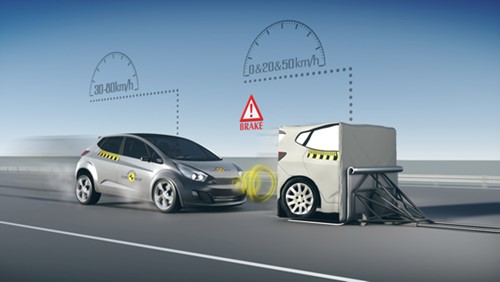 AEB Interurban systems support the driver in avoiding a rear-end crash by warning and supporting adequate braking or ultimately stopping the vehicle by itself. 
Car-to-car rear impacts are one of the most frequent accidents happening on the roads. Typical crashes occur on the open road, at moderate to higher speeds, where a driver might be distracted and may fail to recognise that the traffic in front of him is stopped, coming to a stop or is driving at a lower speed.
To support the driver in avoiding such nose to tail crashes, car manufactures offer avoidance technology that warns, supports adequate braking and/or ultimately stops the vehicle by itself. This technology is commonly referred to as Autonomous Emergency Braking at interurban speeds.
AEB INTERURBAN SYSTEMS SUPPORT THE DRIVER IN AVOIDING A REAR-END CRASH
For AEB Interurban systems, Euro NCAP evaluates the automatic brake function and the forward collision warning function in three different driving scenarios: driving towards a stationary vehicle (30-80km/h), closing in at a slower vehicle in front (30-80km/h) and following a car in front which suddenly starts braking (50km/h, gentle and harsh braking).
A high score is awarded to systems that are able to avoid a collision in all test conditions, or are able to significantly reduce the severity of the crash. It should be noted however that AEB is a support system that should not be overly relied upon by the driver. In more challenging situations, AEB activation may not be sufficient or not timely enough to avoid a crash completely, although the resulting impact speed may be significantly reduced. Good occupant protection remains vital to avoid serious consequences. 

 Introduced in 2014