AEB Car-to-Car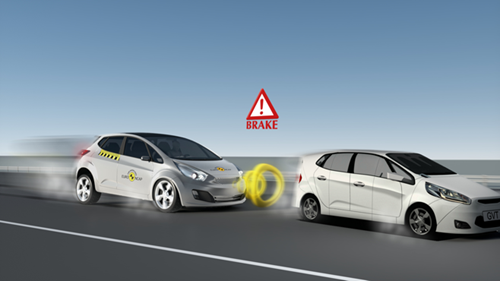 Car-to-car rear crashes are amongst the most frequent accidents on European roads.  Typical crashes occur in a city environment or on the open road where a driver is distracted and fails to recognise that the traffic in front of him has stopped, is coming to a halt, or is driving at a lower speed.  Autonomous Emergency Braking (AEB) systems use sensors to detect the presence of a potential hazard in front of the vehicle and, where the driver has not done so in time, to apply the brakes to avoid a collision or to mitigate its severity.  Typically, the sensors used are cameras, radars and lidars. Systems may use these alone or in combination (known as sensor fusion) to meet the requirements set for it by the vehicle manufacturer.  Most systems combine autonomous braking with a forward collision warning, which alerts the driver of a potential hazard in time for action to be taken.  Only if the driver does not act in time does the system intervene to instigate an emergency braking procedure.
From 2020 onwards,
AEB City and AEB Inter-Urban
are assessed in AEB Car-to-Car
When this technology was first offered, systems were generally split between those that operated at low speeds and those that operated at higher speeds.  Low-speed systems generally used cameras or lidars as sensors and were effective at the speeds typical of city driving at which whiplash injuries frequently occur.  Systems designed to function at higher speeds generally use a radar in conjunction with a camera, in order to be able to detect hazards at greater distances and allow time for action to be taken.  These systems provided general protection against all injuries by reducing accident severity.
When Euro NCAP first started testing AEB systems in 2014, tests were divided between the two functionalities, with points awarded in Adult Occupant Protection for low-speed systems (AEB City) and in Safety Assist for those that were effective at highway speeds (AEB Interurban).  Over time, the distinction between the two functionalities has become less clear.  Sensor technology has advanced sufficiently that one sensor set can be used for all speeds and systems can offer functionality across the whole speed range.  Accordingly, from 2020, Euro NCAP simply rewards AEB Car-to-Car, assessing the functionality over a wide speed range.  AEB systems for vulnerable road users like pedestrians, cyclists and motorcyclists (the latter from 2023) are assessed separately.
AEB Car-to-car SYSTEMS ARE TESTED ACROSS A WIDE RANGE OF SPEEDS AND VEHICLE OVERLAPS and traffic situations
Three scenarios are tested for a car approaching the rear of another vehicle: where the target vehicle has stopped; where the target vehicle is moving but at a slower speed than the test vehicle; and where the target vehicle is decelerating, both gently and harshly, at different distances in front of the test car.  For the first two scenarios – stopped and slower-moving target – the tests are repeated for left and right offsets, where the centreline of the test vehicle is not in line with the centre of the target.  As the sensors of the test vehicle can 'see' the side of the target in these offset tests, a specially designed remote-controlled 3D target has been developed, known as the Global Vehicle Target (GVT).  For these tests, a high score is awarded to systems that can avoid a collision in all test conditions or can significantly reduce the severity of the crash. However, it should be noted that AEB is a support system that should not be overly relied upon by the driver.  In more challenging situations, AEB activation may not be sufficient or not timely enough to avoid a crash completely, although the resulting impact speed may be significantly reduced.  Good occupant protection remains vital to avoid serious consequences.  At lower speeds, tests against a stationary vehicle consider only the auto-braking part of the system, as time is too short for driver-warning to be effective.
From 2020, Euro NCAP introduced a scenario in which the test vehicle turns (into a side road, for example) across the path of an approaching vehicle.  The speeds of the test vehicle and of the approaching target are varied and points are awarded for how effectively the AEB system detects the oncoming hazard and stops the test vehicle in time.
From 2023, an additional scenario is assessed. In this, the test vehicle approaches a junction straight into the path of a crossing vehicle. A set of speed combinations are tested, and points are awarded for how effectively the AEB system of the test vehicle will either mitigate or avoid a collision with the crossing hazard vehicle.
Overview of tests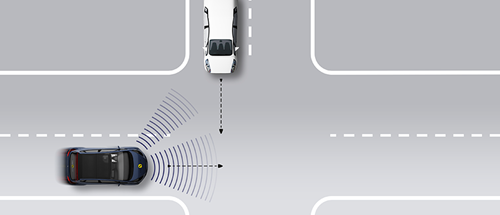 Approaching a car crossing a junction
Introduced in 2023.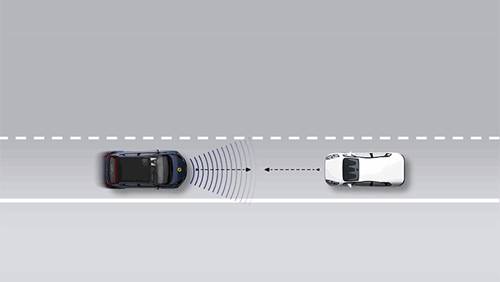 Approaching a car head-on
Introduced in 2023.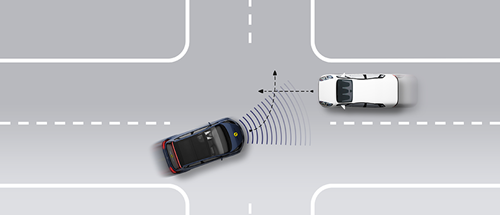 Turning across the path of an oncoming car
Introduced in 2020.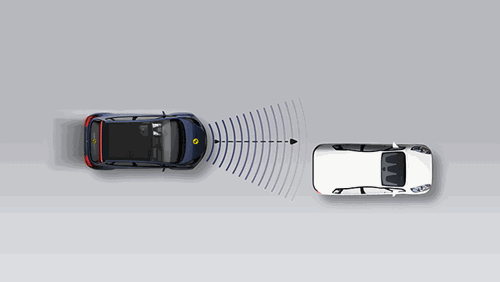 Approaching a stationary car
Introduced 2020.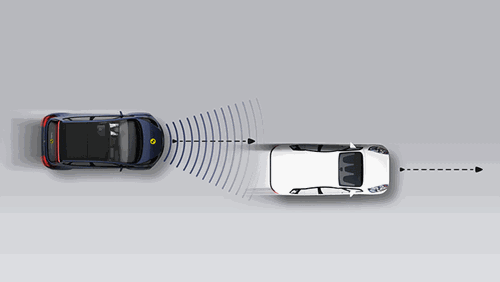 Approaching a slower moving car
Introduced in 2020.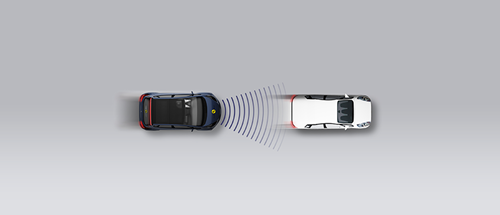 Approaching a braking car
Introduced in 2020.

 Introduced in 2014. Upgraded in 2023.