2008 Whiplash Tests
What is Whiplash ?
Whiplash, caused by or related to a sudden distortion of the spine, can lead to long, painful and debilitating symptoms over many years. Although Whiplash is not uncommon in frontal and side impact accidents, it most frequently occurs in low speed, rear end collisions. Whiplash injuries are difficult to diagnose, difficult to treat and are estimated to cost the European society up to 10 billion Euro annually. 
About the Tests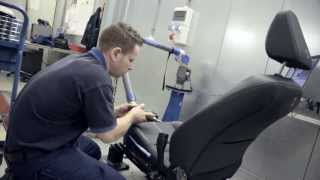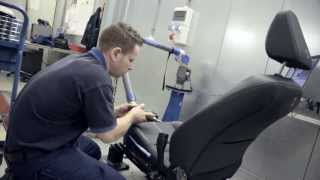 While the mechanisms by which the injuries are caused are not fully understood, it is known that seat and head restraint design can influence the risk of injury. The test procedure applied by Euro NCAP therefore promotes the best practice in seat design, in particular good head restraint geometry, its ease of use as far as adjustment, the locking of the head restraint and the overall seat integrity.
THE HIGH FREQUENCY OF WHIPLASH INJURY, THE PERSONAL SUFFERING AND THE COST TO EUROPEAN SOCIETY HAVE MOTIVATED EURO NCAP TO INTEGRATE A REAR IMPACT TEST INTO ITS CRASH TEST PROGRAMME.
Euro NCAP assesses the geometry of the front seat restraint in relation to the head and tests the seats dynamically in three severities of impact – high, medium and low – using a dummy specially designed for rear impacts. 
The first series of Whiplash tests includes 25 driver seats taken from a selection of car models rated by Euro NCAP in 2007. These include different head restraint designs, such passive, reactive, pro-active or fixed.

About the Results
Euro NCAP tests score the front seats between 0-4 points, split into categories Good, Marginal and Poor. The seats rated Good are likely to offer much better protection against Whiplash injuries than those rated Poor.
Comments
Euro NCAP included Whiplash testing of front seats in the rating as of 2009. The results are shown as part of Adult Occupant Protection. In 2014, the whiplash assessment was extended to include rear seating positions, where the 4 points were redistributed to 3 points for front seats and 1 point for rear seats.