Commercial Van Ratings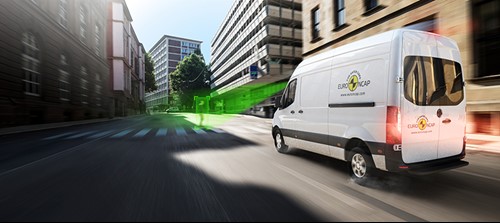 With the goal of providing up-to-date information for fleet managers and a safer environment for van drivers, since 2021 Euro NCAP has provided Commercial Van Safety ratings. These stand-alone ratings issued for light commercial vans, focus on the availability and performance of advanced driver assist systems (ADAS).  Light commercial vans are vehicles designed to carry goods or specialized equipment and which weigh no more than 3.5 tonnes gross vehicle mass.  Their economic life span and total kilometres travelled usually exceed those of average passenger cars. To save development costs and maximize profits, "badge engineering" is a common practice in this segment, with a common design being shared by several manufacturers.
Crashes involving vans tend to be more severe for the opponent vehicles
While commercial vans do not necessarily have a higher crash rate than other motor vehicles, crashes involving vans tend to be more severe for their opponent vehicles. According to the European Commission, casualties comprise around 4 percent of total fatal or seriously injured vehicle occupant casualties. A large percentage of these are due to loss of control, in head-on and rear-end crashes. While ADAS technology can help effectively prevent or mitigate the consequences of these crashes, commercial vans are often not adequately equipped.
ADAS Fitment Information
Each year, the fitment of each system on each van available on the market is confirmed with the vehicle manufacturer and data are consolidated by Euro NCAP.  The availability (standard, optional or not available) is presented in a graphical format with a corresponding table for each van, system and market respectively on the website.
ADAS Performance
Available ADAS systems (whether optional or standard) on each commercial van are tested using Euro NCAP Safety Assist protocols, adapted to commercial vans where needed. Each van is carrying half of its permissible loading mass, a typical load for a commercial van in daily use. In addition to ADAS, a Seat Belt Reminder (SBR) check is carried out for each van.
The test scores of each system are weighted and combined into an overall score for each van.
ADAS
Weight
AEB Van-to-Car
30%
AEB Van-to-Pedestrian
10%
AEB Van-to-Bicyclist
10%
Lane Support Systems
20%
Speed Assist Systems
15%
Occupant Status Monitoring
(including SBR)
15%
This weighted overall performance score places each van tested in one of the following categories: Platinum, Gold, Silver, Bronze, or Not Recommended. The original test and assessment protocols were updated in 2023 to reflect the positive progress in the market since 2021.  Euro NCAP updates commercial van ADAS ratings every year, based on the latest protocols and the most recent models and equipment offered by vehicle manufacturers.
| | |
| --- | --- |
| Category | Weighted Overall Performance Score |
| Platinum | Equal or larger than 80% |
| Gold | Equal or larger than 60% |
| Silver | Equal or larger than 40% |
| Bronze | Equal or larger than 20% |
| Not recommended | Below 20% |

 Introduced in 2021, Upgraded in 2023.