Far-Side Impact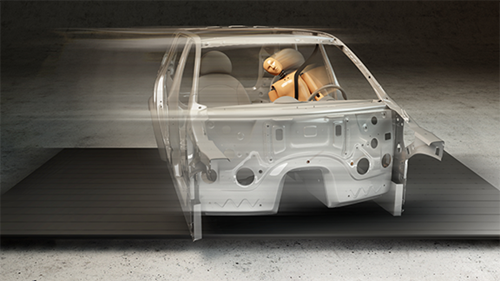 Side impacts account for around a quarter of all crashes and, since it started, Euro NCAP has performed tests on the driver's side of the car.  Almost half of occupants injured in side impacts are on the opposite side to the one that is struck.  Such accidents can give rise to serious injuries, depending on the extent to which the driver moves sideways in the impact and whether another occupant is sitting in the passenger seat.
In a Side impact, the occupants on both the struck (near) side and on the opposite (far) side of the vehicle are at risk of injury
Some car manufacturers are now addressing these 'far-side' impacts and are introducing countermeasures to mitigate injuries in such accidents.  Generally, these are in the form of a centre airbag which deploys vertically between the two front occupants to limit the excursion of the far-side occupant and to provide protection from impact between two front seat occupants.
Where vehicles are equipped with a countermeasure (for example a centre airbag), Euro NCAP will install two front seat occupants in the full-scale side pole tests to demonstrate that the proposed solution works robustly, that it is effective for impacts from both sides of the car, and that it mitigates interaction between the front seat occupants.  Vehicles without a countermeasure will have only one dummy in the full-scale tests.
Counter-measures – mostly centre airbags – provide protection from impact between two front seat occupants
Additional tests are also performed on a complete vehicle body attached to a sled, regardless of the fitment of a counter-measure.  The sled replicates the accelerations experienced by the vehicle in the side and pole tests, exposing a single dummy, seated on the far-side, to similar conditions as those of the full-scale tests.  In both sled tests, the 'excursion' of the dummy - the extent to which the dummy moves towards the impacted side of the vehicle - is measured.  At the same time, the dummy itself measures forces and decelerations, most importantly in the head and neck but also in the chest and abdomen, and a score is calculated from these measurements.  Depending on the excursion, the car can score anything from full points, for very limited excursion, to no points, where the excursion is extreme.

 Introduced in 2020. Upgraded in 2023.