Full Width Rigid Barrier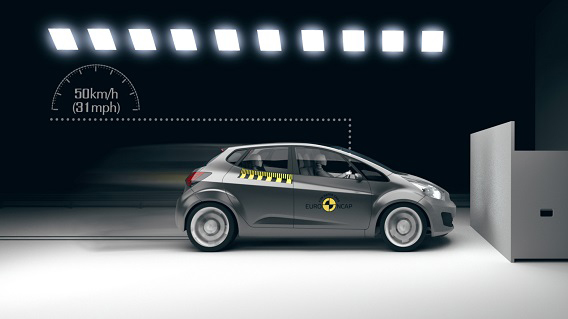 In recent years car structures have become stiffer. This has helped to reduce lower leg and head injuries as the passenger compartment is less prone to collapse.  Higher structural stiffness however also means higher compartment decelerations, which need to be dealt with by the restraint systems in the front and rear seats during the crash. These decelerations can lead to severe injuries, especially to the chest of the more vulnerable, smaller or elderly occupants.
CAR STRUCTURES HAVE BECOME STIFFER, THIS HAS HELPED TO REDUCE LOWER LEG AND HEAD INJURIES.
Euro NCAP tests cars against a rigid barrier with full overlap at a test speed of 50 km/h. A small female frontal impact dummy is seated in the front driver's seat and in the rear passenger side seat.

This test places high demands on the restraint systems in front and rear seating positions. Strict limits are placed on the decelerations of the chest and on the degree of chest deflection and this, in turn, encourages manufacturers to fit more sophisticated restraints. The test complements the offset deformable test as a balance must be found between a restraint system that is stiff enough to restrain a male dummy in the frontal offset test and one that is compliant enough not to put injuriously high deceleration forces on a small female.

 Introduced in 2015.