Electronic Stability Control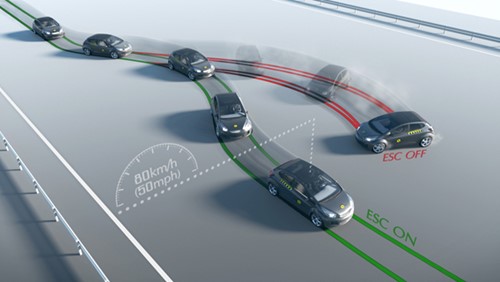 ESC is highly effective in helping the driver maintain control of the car, thereby avoiding or reducing the severity of crashes. Electronic Stability Control (ESC) is a technology that improves the vehicle's stability by detecting and reducing loss of traction. 
ESC WAS INTRODUCED IN EURO NCAP'S TESTS IN 2009.
Euro NCAP has rewarded broad fitment of ESC by the vehicle manufacturer since 2009. Between 2011 and 2013, additional functionality tests on all cars equipped with ESC were performed. The system was assessed by performing a series of so called "sine-with dwell" tests, based on an actual double lane change manoeuvre. 
These tests were carried out at 80 km/h with sudden steering wheel rotations up to 270 degrees. The sideways displacement, the stability and the vehicle's ability to follow a straight path are evaluated. In 2014, the fitment of ESC systems has become mandatory for all new vehicles and therefore Euro NCAP has stopped testing the system. 

 ESC introduced in 2009. No longer rewarded by 2016.