Van Compatibility Test Series
To illustrate some of the safety concerns around commercial vans, a half-laden Nissan NV400 was crashed into the compact SUV Nissan Juke.  The NV400, shares its design with the Renault Master and, like its sister the Opel/Vauxhall Movano, received its latest facelift in 2019.  The Nissan Juke is the brand's latest flagship and a solid Euro NCAP overall 5-star performer in 2019.  The NV400's compatibility was also separately analysed using the new Euro NCAP Mobile Progressive Deformable barrier (MPDB) test.
| | | |
| --- | --- | --- |
| Test Specification | Commercial Van | Passenger Car |
| Test weight | 2848 kg | 1487 kg |
| Test speed | 50 km/h | 50 km/h |
| Overlap |   | 50% of width |
| Driver / Passenger | THOR-50th male | Hybrid-50th male ATD |
DOWNLOAD THE SUMMARY TEST REPORT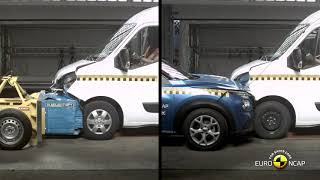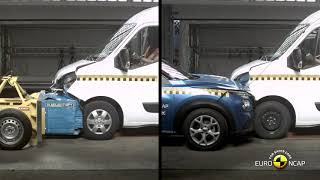 Findings
With a half-loaded weight of 2.8 tonnes, almost double that of the car, the commercial van clearly dominates the crash.  The Juke's optimised body, crash structures and occupant restraints perform well, but this cannot prevent the high deceleration and large intrusions caused by the van's stiff driver-side longitudinal.  This is confirmed by the barrier footprint analysis from the MPDB barrier test, which shows high localised deformation in the evaluation area of the barrier.  Despite being in the larger vehicle, both occupants in the commercial van show a high risk of injury to the chest, knee, femur and pelvis.  The driver and passenger of the car show increased risk of chest, knee, femur, pelvis as well as the lower extremities, compared to the official 2019 Offset Deformable Barrier test results.  As would be typical for any crash involving vans, the difficulty with the high mass of the vehicle is that the relative risk is higher for passengers in the lighter vehicle.  That the results were not much worse for the car's occupants is a consequence purely of the Juke's inherent crashworthiness.
This crash scenario is typical for vans, yet idealised, for the outcome of such an accident in the real world could be much worse, particularly for smaller or older passenger cars, or at higher speeds.  Nevertheless, the tests highlight the need for better vehicle compatibility between vans and passenger cars and explains why Euro NCAP has introduced the mobile barrier test as part of its safety rating in 2020.
---