Whiplash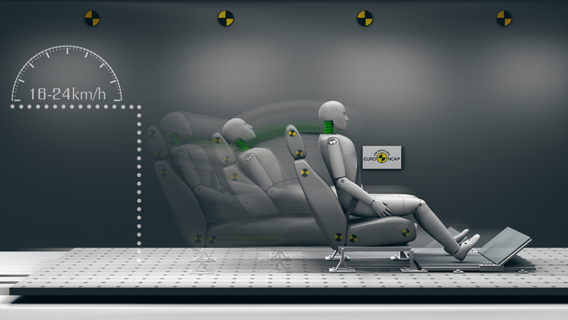 Whiplash injuries, associated with rapid and excessive distortion of the spine, can be long-lasting, difficult to diagnose or treat and extremely debilitating. They are also common, most often occurring in low-speed, rear-end collisions. While such crashes rarely result in fatalities, the consequences of whiplash injuries have a huge impact on individuals and on society, with an estimated annual cost of some €10 billion in Europe. 
WHIPLASH INJURIES, ASSOCIATED WITH RAPID AND EXCESSIVE DISTORTION OF THE SPINE, CAN BE LONG-LASTING, DIFFICULT TO DIAGNOSE OR TREAT AND EXTREMELY DEBILITATING.
Seats and head restraints are tested on a sled using a low speed rear-impact dummy. Two dynamic tests are performed, representing common accident severities known to cause injuries, together with an assessment of the geometry of the front and rear head restraints.
Euro NCAP's whiplash tests are designed to promote best-practice seat and head restraint design i.e. those designs which are known from accident data to provide the most effective protection in the real world. The geometry is assessed to see whether or not the head restraint can be positioned to prevent excessive head movement and provide effective support. The dynamic sled tests indicate how effectively the seat and head restraint operate to provide whiplash protection in typical crash scenarios.

 Introduced in 2009. Upgraded in 2020.