2014 Safety of Quadricycles
What Are Quadricycles ?
Quadricycles are sold as convenient, economical means of transport. They are road-legal and a full license may not be required to drive them. Technically classed as light quadricycles (L6e) or heavy quadricycles (L7e), these vehicles do not have to pass the stringent safety tests that apply to normal passenger cars. Nevertheless, many quadricycles look similar to small city cars like the smart fortwo and the Toyota iQ.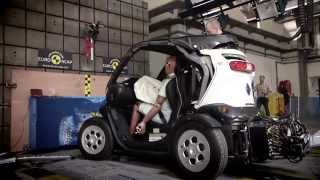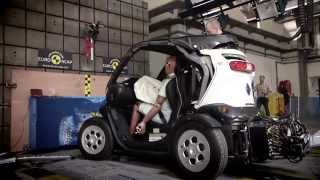 Some car buyers may consider quadricycles as alternatives to such cars but others may buy them instead of a motorcycle. Light quadricycles are limited to 45km/h. Heavy quadricycles are not speed-limited and, while some have very low maximum speeds, others can reach speeds of 100km/h. Even vehicles with very low maximum speeds are categorised as L7e if their mass exceeds 350kg
Some car buyers may consider quadricycles as alternatives to cars
About the Tests
Euro NCAP has tested four heavy quadricycles in front and side impact to get a picture of the safety of this category of vehicle. In the frontal test, the full width of the vehicle is impacted at 50km/h into a honeycomb element attached to a concrete block. On the road, if quadricycles are struck by other vehicles, the change of velocity or 'severity' of the collision can be much greater than the maximum speeds they themselves are capable of. In the side impact, a honeycomb barrier is driven at 50km/h into the side of the vehicle. Together, these tests represent the sorts of accidents that quadricycles might be involved in when driven on public roads (read the Heavy Quadricycles Test protocols).
About the Results
The scoring is based primarily on dummy numbers but penalties are given for poor performance of the structure or restraints. These tests are different from Euro NCAP's normal procedures and, while the results of the quadricycles can be compared with one another, they cannot be compared with the star ratings published by Euro NCAP for other passenger vehicles.
ALL OF THE QUADRICYCLES TESTED SHOWED CRITICAL SAFETY PROBLEMS, ALTHOUGH SOME FARED BETTER THAN OTHERS IN THE FRONT OR SIDE IMPACT TEST BY EURO NCAP.
Safety Concerns
All of the quadricycles tested showed critical safety problems, although some fared better than others in the front or side impact test by Euro NCAP. The vehicles tested are type-approved and meet the minimal safety requirements set by European legislation for L7e heavy quadricycles. Consumers, however, should note that quadricycles in general offer a significantly lower level of occupant protection than is offered by cars.