2013 AEB Tests
What are AEB Systems ?
Research indicates that 90% of road accidents are caused by drivers who are distracted or inattentive. Car manufacturers are now developing systems which can alert the driver to an imminent crash and can help him use the maximum braking capacity of the car, and which can also apply the brakes independently of the driver if the situation becomes critical. Such intervention is known as Autonomous Emergency Braking (AEB).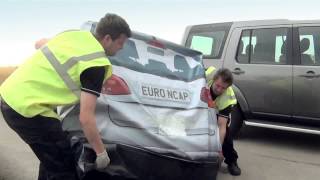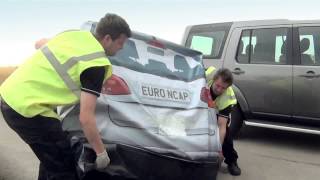 Real world performance data suggests that such AEB systems can reduce accidents by up to 38% and can lead to a significant reduction in injuries.
About the Tests
Euro NCAP has developed tests to allow the performance of AEB systems to be compared in typical rear-end car to car collisions. The technologies available on the market today can be divided into groups based on the type of crash they are designed to mitigate. 'AEB City' works at low driving speeds and targets reduction in rear end shunts often associated with whiplash neck injuries. 'Inter-Urban AEB' works at higher speeds and targets fatal and serious injury crashes that may be caused by driver inattentiveness or distraction. An AEB system may be designed to work just at low or high speeds, or may operate in both conditions. 
AEB systems can reduce accidents by up to 38% and can lead to a significant reduction in injuries.
To ensure good repeatability of the tests, Euro NCAP uses a braking robot that reacts to the warning in the same way as a driver. Cars tend to travel at closer distance in slow traffic which minimizes the driver's ability to avoid a crash at the last minute. As a result Euro NCAP focuses on the automatic braking function in its AEB City tests up to 50 km/h. At higher driving speeds, there is often sufficient time for the driver to take action to avoid the crash. Therefore, AEB Interurban systems often provide a Forward Collision Warning function with enhanced braking performance, which can be complemented with an automatic brake function in case the driver does not respond to the warning. Euro NCAP assesses the system performance both where the driver brakes and where there is no reaction to the warning for their ability to avoid and mitigate crashes up to speeds of 80km/h.
About the Results
Euro NCAP tests both types of systems and scores them between 0-3 points, which translates to Good, Adequate or Marginal. A separate rating is given to the performance in "City" and "Inter-Urban" tests.
| | | |
| --- | --- | --- |
| Make & Model | Tested System | Detailed Information |
| Mercedes-Benz E-Class | Pre-Safe Brake | |
| VW Golf VII | Front Assist | |
| Honda Civic | Collision Mitigation Brake System | |
| Mitsubishi Outlander  | Forward Collision Mitigation | |
| FIAT 500L | City Brake Control | |
| Volvo XC60 | City Safety | |
| Ford Focus | Active City Stop | |
| Volvo V40 | City Safety & Collision Warnging with Full Auto-Brake | |
Does It Work?
This first test series on AEB systems demonstrates that these technologies are able to intervene and support the driver in imminent rear-end crashes. The tests identified differentiation in performance between the systems installed by different manufacturers but, in all cases, a positive real world benefit could be expected. However, it should be remembered that AEB technology is a support system that should not be overly relied upon by the driver. In more challenging situations, AEB activation may not be sufficient or not timely enough to avoid a crash completely, although the resulting impact speed may be significantly reduced. Good occupant crash protection remains vital to avoid serious consequences.
Comment
AEB City and AEB Interurban have become part of the rating system in 2014. This means that vehicles that are equipped with AEB technology (if widely available across the European market), are eligible for points contributing to stars. The "City" test results are shown under Adult Occupant Protection, the "Inter-Urban" test results under Safety Assist.