Leg Impact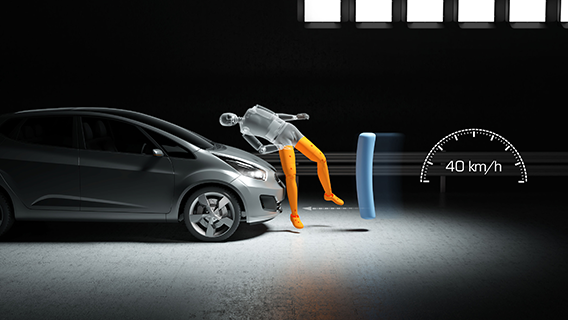 Typical injuries resulting from leg-to-bumper impacts include fractures to the femur, tibia, knee and ligaments. These leg injuries are rarely fatal however are often associated with permanent medical impairment.
THESE LEG INJURIES ARE RARELY FATAL, HOWEVER, ARE OFTEN ASSOCIATED WITH PERMANENT MEDICAL IMPAIRMENT.
To estimate the potential risk of leg injuries in the event of a vehicle striking an adult, a series of impact tests is carried out at 40 km/h using an adult leg form impactor. Impact sites are then assessed, and the protection offered is rated as good, adequate, marginal, weak or poor. The procedure promotes energy absorbing structures and a more forgiving geometry that mitigates injuries to the leg.

 Introduced in 1997. Upgraded in 2014.