Velar Joins the Ranks of Europe's Safest SUVs
4th October 2017
Range Rover is the latest brand to capitalise on increasing popularity of SUVs in Europe with the launch of the brand new Velar.
The SUV segment has continued to grow more than any other and sales of small SUVs are expected to reach two million in 2018.  Fifteen popular SUVs, large and small, have already been tested by Euro NCAP since the start of 2016. These include sport utility vehicles by established players, such as the Jeep Compass and the Audi Q5, as well as new entrants like the Seat Ateca, Škoda Kodiaq and the Alfa Romeo Stelvio.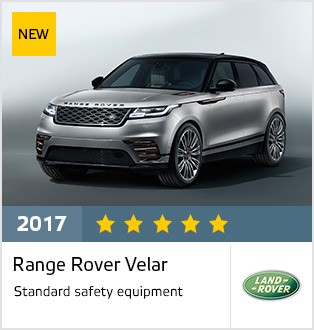 The Range Rover Velar is the latest car in the category tested by Euro NCAP and has achieved a five-star safety rating. In this increasingly crowded segment, the Velar becomes one of the best overall performers, with good results in all aspects of safety.
Michiel van Ratingen, Secretary General of Euro NCAP, said, "Twenty years on from when Euro NCAP started, it's encouraging to see a competitive safety environment still working. All of the SUVs we have tested in the last couple of years have had a five-star rating and the Velar is towards the top of the table in all areas of assessment.  That's great news for consumers, who are able to buy the kind of cars they like with the confidence that they offer high levels of protection."

Euro NCAP expects to publish the results of several more recently launched SUVs before the end of this year. Included in these will be the long awaited Jaguar F-Pace, with which the Velar shares much of its architecture.
Detailed results and crash test pictures are published on our website. All videos are available on our YouTube channel and the Newsroom for journalists. For media requests, please contact media@euroncap.com. 
---
About Euro NCAP


Euro NCAP organizes crash tests on new vehicles and provides motoring consumers with a realistic and independent assessment of the safety performance of some of the most popular cars sold in Europe. Established in 1997 and backed by several European Governments, motoring, consumer and insurance organizations, Euro NCAP has rapidly become a catalyst for encouraging significant safety improvements to new car design. Visit our website: www.euroncap.com

Euro NCAP ratings strictly apply to vehicles of the specifications offered in Europe. The ratings do not necessarily apply to models offered in other regions, even when sold under an identical name, as production specification and equipment may vary.