The New Audi TT Peaks at Four Stars
25th February 2015
The new Audi TT has been awarded a four star overall safety rating by Euro NCAP. 
The third generation TT went on sale in 2014, surprisingly without a safety rating for the European market. Following last year's controversy in the UK, Euro NCAP has taken the initiative to put the car to the test themselves.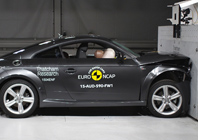 The Audi TT achieved four stars overall, amongst other reasons due to the lack of latest advanced technologies such as autonomous emergency braking. This important technology is becoming more common and is already available on many other models in the Audi range.

The Audi TT is the first car tested by Euro NCAP under the new 2015 rating rules that use new and updated test protocols and crash test dummies. A new full-width rigid barrier frontal test has been added to complement the frontal offset deformable test. The full-width test specifies, for the first time in any European crash test, a small female driver and rear seat passenger. In recent years car structures have become stiffer, which has helped to reduce lower leg and head injuries as the passenger compartment is less prone to collapse. Higher structural stiffness however also means higher comportment decelerations that need to be dealt with by the restraint systems in the front and rear seats during the crash. These decelerations can lead to severe injuries, especially to the chest of the more vulnerable, smaller or elderly occupants. Michiel van Ratingen, Euro NCAP Secretary General to say: 'The scores obtained in the new full width impact test will provide further information on how safe occupants of different stature really are and will provide an incentive to improve the restraint systems in cars.'

Also published this month are the 3 stars Renault Trafic and its twin the Opel/Vauxhall Vivaro. Both vans were tested under the current 'Heavy Vehicles' protocol. From 2016 onwards, van testing will be aligned to the passenger vehicle testing, sharing essentially identical test protocols.

Detailed results and crash test pictures of all vehicles are published on our new website. All videos are available on our YouTube channel and Media Center for journalists. For media requests, please contact Marie Brasseur, Euro NCAP Communications Manager.