Skoda Superb Joining the Ranks of Top Safety Achievers
24th June 2015
Euro NCAP has recently conducted safety tests on the large family Skoda Superb and on the Hyundai i20 and FIAT Panda Cross superminis.
The Skoda Superb has joined the ranks of the latest top safety achievers thanks to robust crash protection and its Autonomous Emergency Braking systems.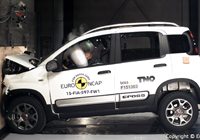 The Superb is also equipped with crash avoidance technologies awarded under the Euro NCAP Advanced Rewards scheme such as Multi Collision Brake and Crew Protect Assist.
With 4 stars, the Hyundai i20 supermini offers good crash protection for its segment, but misses out on the 5 stars due to a lack of an AEB system. The Fiat Panda Cross sits at the bottom of the list with a modest 3 star rating. The supermini, based on the third-generation Panda 4x4 launched back in 2012, does not have much news to offer in terms of assist technologies. It also failed to impress in Euro NCAP's latest full width crash test designed to evaluate the protection offered to smaller occupants in the driver and rear passenger seat.
Find more details on the safety features and crash test ratings of these models on our website. For media requests, please contact Marie Brasseur, Euro NCAP Communications Manager or click here.