SEAT'S STAR SUPERMINI
5th July 2017
Today, Euro NCAP publishes the safety ratings of six new cars and the rating of the Ford Mustang facelift. The Alfa Romeo Stelvio, Hyundai i30, Opel Insignia, SEAT Ibiza and VW Arteon are all awarded a maximum five-star rating; Honda's new Civic gets four stars; and Ford's muscle-car, the Mustang, gets three stars in its latest form.
The luxurious VW Arteon performed well in all areas of assessment, becoming the highest-scoring executive vehicle for pedestrian protection to date. Alfa Romeo's new off-roader, the Stelvio, did exceptionally well in adult occupant protection, with a near-perfect 97 percent score, matching competitors like the Volvo XC90, assessed in 2015.
The SEAT Ibiza stood out for its high level of standard safety equipment. Other cars in this category often have autonomous braking as an option but the Ibiza's system, which includes pedestrian detection, is standard equipment, helping it to a well-deserved five-star rating.

Euro NCAP Secretary General, Michiel van Ratingen, said, "The greater the extent to which these new technologies are fitted, the better and faster will be the progress in safety on our roads, to the benefit of all. It is to SEAT's credit that they have made a sophisticated AEB standard on a supermini like the Ibiza, and we commend them for it."
In the small family car category, Hyundai's new i30 gets five stars with good performance across the board. The Honda Civic is let down by lower-than-expected protection offered to children, but is still rated as a solid four star car.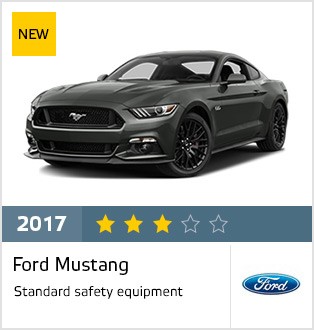 Earlier this year, the Ford Mustang scored a disappointing two stars in Euro NCAP testing. Ford has responded by making AEB and Lane Assistance standard on its facelifted model and has introduced improvements on its frontal airbags. With these changes, the latest Mustang on sale has reached three stars.
Michiel van Ratingen, "It is good to see that after 20 years Euro NCAP's call for safety improvement still strikes a chord with responsible companies like Ford. While a three-star rating is unexceptional, the updates Ford have introduced have not only made Mustang's safety better in key areas but also show that the company cares about its customers and safety reputation."
Detailed results and crash test pictures of these cars are published on our website. All videos are available on our YouTube channel and the Newsroom for journalists. For media requests, please contact media@euroncap.com. More safety ratings will be released on September 6 2017.
---
About Euro NCAP

Euro NCAP organizes crash tests on new vehicles and provides motoring consumers with a realistic and independent assessment of the safety performance of some of the most popular cars sold in Europe. Established in 1997 and backed by several European Governments, motoring, consumer and insurance organizations, Euro NCAP has rapidly become a catalyst for encouraging significant safety improvements to new car design. Visit our website: www.euroncap.com

Euro NCAP ratings strictly apply to vehicles of the specifications offered in Europe. The ratings do not necessarily apply to models offered in other regions, even when sold under an identical name, as production specification and equipment may vary.