Safety comes clean
26th August 2009
Euro NCAP, the organisation that assesses the safety of new cars, today releases the results for eight new cars. Seven cars in this line-up received Euro NCAP's maximum five star award, whilst one car, the Citroen C3, received a four star result. Two of this month's top-scorers are amongst the car industry's most fuel efficient vehicles: the Honda Insight and Toyota Prius 3.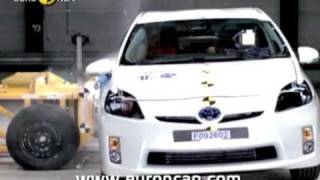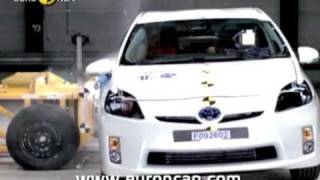 The latest results for the Insight and the Prius 3 show that good fuel economy need not stand in the way of a high level of safety performance. Euro NCAP in particular commends these hybrid vehicles for their impressive pedestrian scores that not only fulfil Euro NCAP's current five star requirements, but already meet the organisation's challenging 2012 targets. Pedestrian protection is an area that has long been underprioritised by carmakers. Last year barely 25% of the cars tested achieved more than two stars for pedestrian protection. However with the introduction of a new regulation in Europe this year and a stronger focus maintained by Euro NCAP, the tide is quickly turning.
Dr Michiel van Ratingen, Euro NCAP's Secretary General says 'The technology and know-how is out there for carmakers to deliver vehicles with better pedestrian protection. Honda and Toyota are giving us a glimpse of the cars of the future that consider the natural and social environment in its entirety.'
Euro NCAP's top scorers with five star results are the Honda Insight, Kia Sorento, Renault Grand Scenic, Skoda Yeti, Subaru Legacy, Toyota Prius 3 and the Volkswagen Polo. The Citroen C3 missed out on Euro NCAP's highest accolade of five stars as Electronic Stability Control (ESC), although available on some variants in the model range, is not expected to be fitted as standard in sufficient numbers to qualify for points. In contrast ESC is fitted as standard across the model range in the other cars in today's line-up, or will be standard equipment in the great majority of sales – a direct result of Euro NCAP's incentive of points under the new rating scheme.
The two French cars - Renault Grand Scenic and the Citroen C3 have both introduced a driver controlled speed limitation system as standard on some variants and as an option on others, which Euro NCAP rewarded during the Safety Assist assessment. These systems greatly assist the driver to maintain the safest speed according to the driving environment.
Some manufacturers have responded quickly to Euro NCAP's call for better whiplash protection. In this month's release, the Honda Insight, the Kia Sorento and the Skoda Yeti all have seats and head restraints that offer good whiplash protection. In contrast, the whiplash protection offered by the Citroen C3 was found to be poor.
Editor's Notes
1. Overall ratings should only be compared to other vehicles of similar size and weight. For comparable cars please consult our website www.euroncap.com.
2. From 2009, Euro NCAP's new overall rating covers Adult Occupant Protection, Child Occupant Protection, Pedestrian Protection and a new area of assessment: Safety Assist. Under the new testing regime, vehiclesare awarded a single overall score from one to five stars. The assessment incorporates all previous aspects and includes the recently introduced Rear Impact (Whiplash) tests. In addition, the availability of ESC and speed limitation devices is considered. The overall rating is based on the car's performance in each of the four main areas and the scores are weighted with respect to each other. Over the next three years, stricter requirements will be introduced increasing the emphasis on all-round safety performance and demanding higher levels of achievement in each area.
3. Currently under the new rating scheme, carmakers require 25% in pedestrian protection to be awarded an overall five star rating. By 2012 carmakers will have to achieve 60% in pedestrian protection to achieve this.
For further information please contact Euro NCAP: TEL +32 2 4007740 or e-mail.