New ratings released ahead of the 2015 Frankfurt Motor Show
2nd September 2015
Good crashworthiness and improved availability of front crash prevention systems resulted in top ratings in latest round of Euro NCAP's tests ahead of the 2015 Frankfurt Motor Show.
Out of nine new models released this month, seven earn the top rating of five stars and two earn a rating of four stars.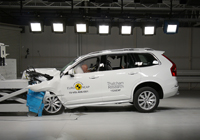 The luxury SUV's Volvo XC90 and Audi Q7 went at it head-to-head. Both aced Euro NCAP's latest crashworthiness requirements, but it was the XC90 that made the biggest impression by earning full marks in the crash avoidance and driver assistance tests. The top ratings for the VW Touran and Ford's Galaxy and S-Max MPV siblings are good news for families with kids, offering at least two rear seating positions compliant with the latest i-Size standard for child restraints as standard. The list of top achievers is completed with Renault Kadjar and the new Toyota Avensis, both delivering an excellent safety performance across the board.
Good occupant protection still is the back bone of a top rating in Euro NCAP, but the availability and performance of avoidance and driver support systems, that will ultimately pave the way for highly automated vehicles, is becoming increasingly important. The Mazda CX-3 and the pick-up Mitsubishi L200 offer good overall safety but are rated 4 stars as the L200 is not fitted with autonomous emergency braking system, while the Mazda CX-3 offers AEB as an option but with an expected low uptake.
Detailed results and crash test pictures of all vehicles are published on our website. All videos are available on our YouTube channel and Media Center for journalists. For media requests, please contact media@euroncap.com.
Next results will be released on 7 October 2015.