New rating to play starring role in improving car safety
18th February 2009
Euro NCAP, the organisation that assesses the safety of new cars, has introduced a new overall car safety rating. The rating system is a new approach to rating safety performance and will challenge vehicle manufacturers to make all-round safer cars. The first six cars rated to the new standards are now revealed.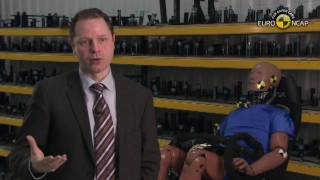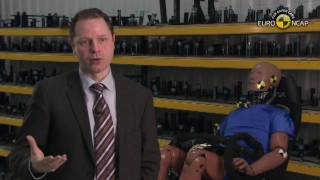 Previously, Euro NCAP made three separate ratings available for each vehicle. From now on, Euro NCAP will publish a new overall rating for every vehicle that will cover Adult Occupant Protection, Child Occupant Protection, Pedestrian Protection and a new area of assessment: Safety Assist. Under the new testing regime, vehicles are awarded a single overall score from one to five stars. The assessment incorporates all previous aspects and includes the recently introduced Rear Impact (Whiplash) tests. In addition, the availability of ESC and speed limitation devices is considered. The overall rating is based on the car's performance in each of the four main areas and the scores are weighted with respect to each other. Over the next three years, stricter requirements will be introduced increasing the emphasis on all-round safety performance and demanding higher levels of achievement in each area.
Of the six cars tested, four achieved Euro NCAP's maximum award of five stars. The power of the new scheme is already evident as two manufacturers evaded a downgraded result by making ESC optional on all variants.
Euro NCAP's top scorers with five star results were the Mazda 6, Mitsubishi Lancer, Toyota Avensis and Toyota iQ. The Citroen C3 Picasso and the Subaru Impreza were both awarded four stars. Following Euro NCAP's assessment, Mitsubishi and Subaru both committed to changing their ESC fitment policies for the Lancer and Impreza, as variants without optional ESC were offered in some countries. Euro NCAP's new rating scheme requires all safety equipment, including ESC, to be standard on 85% of volume sales and at least optionally available on every variant.
Toyota with the Avensis and iQ demonstrated that car size does not stand in the way of all-round safety. The Citroen C3 Picasso is the first of the tested cars that received points for its on-board speed limitation device, a new requirement under Euro NCAP's rating scheme. Whilst the outstanding results of this first batch of cars prove they offer the latest in vehicle safety, the underlying scores clearly expose potential for improvement. Most cars tested showed a weak performance in the side impact pole test. Euro NCAP's new assessment now considers more critical body regions than the head alone. A good Whiplash result was achieved only by the Toyota Avensis. All cars tested, except the Subaru Impreza, still failed to impress on pedestrian protection.
Michiel van Ratingen, Secretary General of Euro NCAP says 'We acknowledge that this new rating scheme is more challenging in some areas, but it does offer lead time to manufacturers in others. We call this 'smart pressure'. We need to raise the bar, but consider the current environment and give carmakers the opportunity to implement the best safety features into their vehicles. These manufacturers have shown that they are meeting all of our early targets. We look forward to seeing where they go next'.
Euro NCAP is well aware that in times of economic crisis priorities are made. Euro NCAP wants to make sure that safety remains a top priority. In 2007, the economic damages generated by traffic accidents were estimated at €200 billion, corresponding to approximately 2% of the European Union's Gross National Product. By ensuring safety design and equipment are introduced through recognition by the new Rating Scheme, this will in turn lessen the financial burden on society and will continue to help relieve the emotional trauma encountered by millions of families across Europe. Euro NCAP believes not prioritising safety is a false economy and that manufacturers who remain committed to safety will be justly awarded with a good overall rating.
Euro NCAP presents the new system and results at a special launch event this evening in Brussels in the presence of industry, stakeholders and press. At the event, presentations will be made by Ari Vatanen, Member of the European Parliament; Johann Friedrich Colsman from European Commssioner Tajani's Cabinet; Antonio Avenoso, Executive Director of the European Transport Safety Council as well as Euro NCAP's Chairman Claes Tingvall and Secretary General Dr. Michiel van Ratingen.
Euro NCAP was delighted to receive the HR Auto Safety Award in Zagreb yesterday, an award presented by Croatia's Association of Journalists.
 For further information please contact Euro NCAP: TEL +32 2 4007740 or e-mail.