Latin NCAP joining worldwide NCAP consumer testing for automotive safety
18th October 2010
Latin NCAP joining worldwide NCAP consumer testing for automotive safety. 
The launch of Latin NCAP has taken place on 18th October 2010 simultaneously in Montevideo, Uruguay and São Paolo, Brazil. On this day, the new association released test results of nine cars from the popular small vehicle class using the same frontal impact test that is included in Euro NCAP's test programme.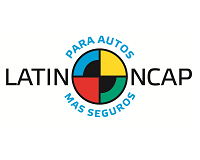 Latin America is a rapidly growing automobile market and source of vehicle production. It is also experiencing high levels of road fatalities and serious injuries. Latin NCAP is the first independent programme to be established in one of the world's newly motorizing regions and is a historic step forward in the availability of consumer crash test information. The FIA (Fédération Internationale de l'Automobile), FIA Foundation, ICRT (International Consumer Research and Testing) and GRMF (the Gonzalo Rodriguez Memorial Foundation) with support of the IDB (the Inter-American Development Bank), have joined forces in setting up Latin NCAP. The programme is expected to contribute to the UN Decade of Action for Road Safety 2011-2020 which could save five million lives on the world's roads if successfully implemented.
Michiel van Ratingen, Secretary General of Euro NCAP, says 'We congratulate the partners in Latin NCAP for taking this important step for the Latin American and Caribbean region. Latin NCAP will not only contribute to raising the standards of car safety and to increasing the levels of protection given to drivers, adult passengers and children, but also help increase much needed public awareness about the importance of safer road transport.'
The nine cars recently assessed by Latin NCAP have been subjected to impact crash testing and safety equipment, including airbags and seatbelts, for drivers, passengers and children has been rated. Separate star ratings for the safety of adults and children have been given with five stars awarded for the best possible performances. The results of the tested cars have been presented on 18th October 2010 during the launch of the programme both in Montevideo, Uruguay and São Paolo, Brazil. Details of the results can be found on the Latin NCAP website: www.latinncap.com.
For further information please contact Marie Brasseur, Communications Manager at Euro NCAP email, +32 2 4007746 or the Latin NCAP Secretariat at secretaria@latinncap.com