Fading Stars
13th December 2017
Today, Euro NCAP rounds off its busiest-ever year with new safety ratings for fifteen more car models. Five stars were awarded to the Hyundai KONA, the Kia Stinger, the fourth generation BMW 6 Series and the Jaguar F-Pace released early last year. Three stars were awarded to the MG ZS crossover, the Dacia Duster 2 and the Kia Stonic (five stars with optional safety equipment1).
Faced with a competitive market-place and rapidly-changing consumer preferences, more and more manufacturers are choosing to extend the lifetimes of their models, often introducing only minor facelifts along the way to boost sales. To allow consumer to make a fair comparison to new models, Euro NCAP has updated the ratings on several of recently facelifted cars. Apart from the Toyota Yaris, that could keep its five-star rating, most of these cars have dropped to three stars in this year's safety tests. The list includes the Toyota Aygo (four stars with optional safety equipment), the Alfa Romeo Giulietta, Ford's C-MAX and Grand C-MAX, the Opel Karl and the DS 3.  The most extreme example, however, is the Fiat Punto, which has been on sale since 2005 but is still a strong seller in Italy. The aging supermini is outclassed by every car tested in recent history and becomes Euro NCAP's first car ever to be awarded zero stars.
Euro NCAP Secretary General, Michiel van Ratingen, said, "We have seen a lot of good cars in 2017, able to meet Euro NCAP's 5-star requirements. Superminis like the new Polo, the Fiesta and the Ibiza now come with advanced safety technology as standard, offering the best in crash avoidance and crash protection. The fact that older cars cannot compete illustrates the pace at which the vehicle industry is innovating safety and the willingness and ability of competitive manufacturers to meet the highest standards. Those who do not keep their cars up to the latest standards get left behind, as these results clearly show."
Euro NCAP's rating scheme requires cars to score a minimum number of points in all four areas of assessment to qualify for even one star. In areas like adult and child occupant safety and pedestrian protection, the Punto still performs well enough to qualify for at least two stars. It is let down in driver assistance and crash avoidance: with only a seatbelt reminder system for the driver as standard, no points were scored in this part of the assessment.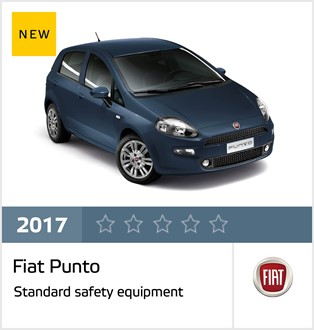 Michiel van Ratingen, "This is perhaps the strongest example of a manufacturer continuing to sell a product that is well past its best-before date, at the expense of the unsuspecting car buyer. We would urge consumers to check our website for the latest ratings and to choose cars with the most up-to-date five-star ratings, many examples of which we have seen in 2017."
Detailed results and crash test pictures are published on our website. All videos are available on our YouTube channel and the Newsroom for journalists. For media requests, please contact media@euroncap.com.
---
About Euro NCAP

Euro NCAP organizes crash tests on new vehicles and provides motoring consumers with a realistic and independent assessment of the safety performance of some of the most popular cars sold in Europe. Established in 1997 and backed by several European Governments, motoring, consumer and insurance organizations, Euro NCAP has rapidly become a catalyst for encouraging significant safety improvements to new car design. Visit our website: www.euroncap.com
Euro NCAP ratings strictly apply to vehicles of the specifications offered in Europe. The ratings do not necessarily apply to models offered in other regions, even when sold under an identical name, as production specification and equipment may vary.
---
1 Cars' ratings are based on a vehicle with safety equipment which is standard across the whole model range. Euro NCAP allows manufacturers to have a second rating for a vehicle, indicating the safety offered with additional equipment sold as part of an option pack. To qualify, manufacturers must commit to selling at least 25 percent of cars fitted with the option pack in the first three years, and 55 percent of sales in the following three years.