Euro NCAP's first rear impact (whiplash) test: 80% of seats tested need improvement
26th November 2008
Today, Euro NCAP releases the results for seats put through the organisation's first ever round of rear impact testing. Euro NCAP carried out whiplash tests on the front seats of 25 passenger  cars crash-tested by the organisation during 2008. The results clearly reveal that most manufacturers still have a long  way to go in improving seat design that will protect consumers from whiplash injury.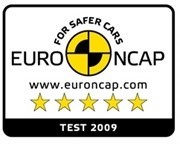 Euro NCAP's test procedure was developed to take into account both the geometrical aspects of the seat, the size and shape of the head restraint and its proximity to the occupant, and its dynamic performance during an actual crash test. This dynamic performance is assessed using a seat mounted on a sled test, subjected to low, moderate and higher test severities representing a range of crash forces causing injury. Some of the seats that received Euro NCAP's worst result, with a 'poor' or 'red' score, provided protection at the lower test severity, but yielded excessively at the higher test severity leading to a zero score. An example of this performance is the Daihatsu Terios.Only five out of the 25 seats tested and taken from new cars received Euro NCAP's best score with a 'good' or green result. These five cars were the Volvo XC60, Alfa Romeo Mito, Volkswagen Golf VI, Audi A4 and Opel Insignia. This green result reflects a state of the art performance in whiplash protection. Euro NCAP notes the good development strategies that these carmakers have adopted to prevent whiplash, but is concerned by the surprisingly low number of seats receiving a good result, when these cars are newly available on the market. Eight seats of the same 25 were rated as 'poor' or 'red' meaning that the seat occupant has a significantly higher risk of developing a long term injury in the case of a low speed rear end collision. These cars were the Daihatsu Cuore, Citroen Berlingo, Hyundai i10, Citroen C5, Ford Kuga, Daihatsu Terios, Peugeot 308CC and the Suzuki Splash.
Three of the eight seats that achieved a 'red' result were from cars that were awarded five stars in Euro NCAP's Adult Occupant protection rating during 2008. These cars were the Citroen C5, Ford Kuga and the Peugeot 308CC. If judged under Euro NCAP's new rating scheme in 2009, the overall rating for these vehicles would be significantly affected by the low scores received in this test. As from 2009, the new Rear Impact (Whiplash) test will automatically be included as part of Euro NCAP's first area of assessment Adult Occupant Protection.
Of the 25 seats, 12 models received a 'marginal' or 'orange' result, indicating that although these seats incorporated some beneficial qualities, additional improvement was necessary. It is interesting to note that the price of the vehicle does not seem to be reflected in the performance of the seat. Both expensive and cheaper cars did well and not so well in this test. For example, the pro-active head restraints such as those equipped in the BMW X3 and the Mercedes Benz M-Class did not fully live up to their claims.
Dr Michiel Van Ratingen, Secretary-General of Euro NCAP says "The importance of this new Euro NCAP test has just been underlined with the release of these results. A consumer would never know how a seat would perform without this test. Buying a five star award winner will not guarantee that you have a good seat that will protect you from a potential whiplash injury. Euro NCAP's new test will certainly encourage manufacturers to think again about seat design."
Euro NCAP releases the results for this first ever round of Rear Impact (Whiplash) testing today at a special launch held at Thatcham, the Motor Insurance Repair Research Centre in the UK – one of Euro NCAP's accredited laboratories.
Whiplash, caused by or related to a sudden distortion of the spine, can lead to long painful and debilitating symptoms over many years. Whiplash is not uncommon in frontal and side impact accidents, but more often occurs in low speed, rear end collisions in urban environments. Whiplash is difficult to diagnose and difficult to treat, and is also expensive. Soft tissue neck injuries currently cost European society billions of euros annually. It has been shown that this type of physical complaint accounts for the majority of the total cost of personal injury claims. The frequency of whiplash and its cost to European society has motivated Euro NCAP to integrate a new rear impact test into its crash test programme.
First results for vehicles tested under Euro NCAP's new rating system will be released in February 2009. From this date, consumers should look out for the new overall Euro NCAP star rating for their vehicle.
Since 1997, Euro NCAP ratings have become known as THE reliable indicator of independent consumer information about car safety.
Euro NCAP's test results are released on a quarterly basis. Keep checking our website www.euroncap.com for details of forthcoming results. For further information please contact Euro NCAP: tel +32 2 4007740 or email.
¹Euro NCAP was unable to test the Ford Ka, given a seat was not made available by the
manufacturer