Euro NCAP's best performing cars of 2010
27th January 2011
Euro NCAP is glad to announce the five best performing cars of 2010. To be selected as safest cars of their categories, these vehicles achieved a high overall score and attained the coveted five star rating.
Last year, Euro NCAP crash tested twenty nine vehicles, 65% of which reached the five star rating, compared to 90% in 2009. This decrease of 25% clearly shows that Euro NCAP's criteria to reach a five stars are now tougher. While Euro NCAP's poorest results of 2010 were achieved by the Citroen Nemo with three stars and by the Landwind CV9 which received only two stars, the top achievers by category are: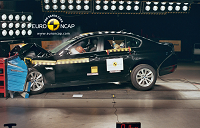 · Executive category: BMW 5 Series
· Small Family category: Alfa Romeo Giulietta
· Supermini category: Honda CR-Z
· Small off-road 4×4 category: Kia Sportage
· Small MPV category: Toyota Verso
To be top achiever means that the car accomplished a high combined score based on the scores in each of the individual four areas of Euro NCAP's assessment, while notably exceeding the minimal thresholds for a 5 star overall rating. In addition to the top five achievers, the Suzuki Swift, Kia Venga, BMW X1, VW Sharan/Seat Alhambra, Citroen C4 all exceeded the 80% mark in overall score putting them on the list of best performing cars of 2010.
Dr Michiel van Ratingen, Euro NCAP Secretary General says "Every year, car manufacturers constantly work to innovate and make their cars better and safer for the driver, whatever the size of the vehicle. The presence in these categories of high performing 5 star cars demonstrates car manufacturers' commitment to safety for all sizes of vehicles."
Euro NCAP is now performing Electronic Stability Control tests as part of the overall assessment. Since 2009, Euro NCAP requires ESC systems to be fitted as standard and will from now on be measuring its performance when testing the vehicles. ESC is meant to reduce the number of deaths and injuries resulting from crashes in which the driver loses directional control of the vehicle, including those resulting in vehicle rollover.
Next results will be released on 23rd February 2011. For more information, please contact Marie Brasseur, Euro NCAP Communications Manager at email or +32 2 4007746.