Euro NCAP Releases Latest Round of Crash Tests
4th September 2013
Euro NCAP publishes today the safety results for five cars.
The superminis Opel/Vauxhall Adamand Mitsubishi Space Star/Mirage both scored four stars. The small family Toyota Corolla but also the large families Lexus IS 300h and Mazda 6 achieved the coveted five star overall rating in Euro NCAP's latest tests series. Available content includes videos, still images and datasheet for all cars tested.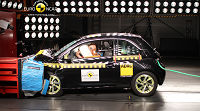 Media relations : Marie Brasseur Euro NCAP Communications Manager Tel: +32 2 4007746.