Euro NCAP receives Global NCAP Consumer Champion Award
31st May 2013
The Global NCAP's annual safety awards were handed out at the 23rd Enhanced Safety of Vehicles (ESV) Conference in Seoul, South Korea on May 30. Euro NCAP received the Consumer Champion Award for its pioneering role in consumer crash testing and its contribution to the significant reduction in deaths and injuries in the European Union over the past 16 years.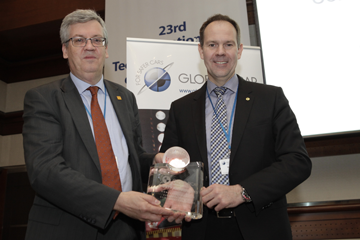 Euro NCAP President Professor Andre Seeck accepted the Global NCAP Award on behalf of the organisation. Professor Seeck said: 'It is an honour to receive such award recognizing Euro NCAP's role and efforts since 1997 to increase the level of vehicle safety in Europe. We are committed to safer cars for all European citizens.'
Euro NCAP Secretary General Dr Michiel van Ratingen said: 'To be awarded by the Global NCAP organisation is really a tremendous honour. The rapid growth in motor vehicle use will bring major road safety challenges to many parts of the world. Euro NCAP stands shoulder-to-shoulder with Global NCAP to share best practice in vehicle safety and to promote the use of consumer information to encourage the manufacture of safer cars across the global automotive market.'
In addition, Individual Achievement Awards were given to Adrian Hobbs, formerly of the UK's Transport Research Laboratory, Keith Rogers and Maurice Eaton, formerly of the UK's Department for Transport for their substantial contribution to the creation of Euro NCAP. The second Global NCAP's Annual Meeting brought together all NCAP programmes active worldwide to share experience in promoting consumer information about automobile crash avoidance and protection.
For media information, please contact Marie Brasseur, Euro NCAP Communications Manager.
The Global NCAP's annual safety awards were handed out at the 23rd Enhanced Safety of Vehicles (ESV) Conference in Seoul, South Korea on May 30. Euro NCAP received the Consumer Champion Award for its pioneering role in consumer crash testing and its contribution to the significant reduction in deaths and injuries in the European Union over the past 16 years