Euro NCAP in 2008: Making safety your top priority
15th January 2009
2008 was an important year for Euro NCAP, a stepping stone in its vision to ensure the safest possible cars are available on the market and that safety remains key in the consumer's buying decision. In this year, Euro NCAP opened a new car category, introduced a new Rear Impact (whiplash) test and crash-tested more than 30 models. 2008 has also paved the way for the exciting introduction of Euro NCAP's new rating scheme in 2009, which will represent a greater step forward in achieving the highest standards of car safety.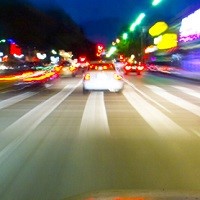 Euro NCAP began the year by starting to test pick-ups. Euro NCAP's observation was that these vehicles were not just used for the carriage of goods, but with a twin cabin were increasingly being marketed at families. In 2008 Euro NCAP tested four popular models: the Ford Ranger, Isuzu D-Max/Rodeo, Nissan Navara and the Mitsubishi L200. The Mitsubishi L200 received the highest score of the four, achieving a four-star result in adult occupant protection. Nissan confronted with a disappointing one-star for the popular Navara recalled all models and introduced a safety update to the vehicle, upping its score to three stars in adult occupant protection. The results demonstrated that testing vehicles outside the mainstream can still generate a surprising outcome in occupant protection.
In May, Euro NCAP released results for seven cars in five different categories aiming at consumers with families. The cars included the Audi A4, Skoda Superb, Citroen Berlingo, Ford Kuga, the VW T5 Caravelle and two Superminis, the Hyundai i10 and the Seat Ibiza. These cars with their good child occupant protection results showed how much these manufacturers have improved since this rating was introduced by Euro NCAP in November 2003. Surveys, however, have shown that over 60% of child restraints are not used as intended. Euro NCAP aims to promote greater awareness and understanding of child protection amongst both industry and parents.
Greater consumer awareness and understanding is also promoted by Euro NCAP on the topics of Electronic Stability Control (ESC) and Rear Impact (whiplash) Protection. Statistics reveal that ESC can play a major role in reducing deaths on our roads. In July, Euro NCAP released information about the fitment of ESC on cars available on the European market as part of the ChooseESC! Campaign. The results showed an increase in the standard fitment of ESC particularly in the larger MPV segment, but there were however minimal improvements in the competitive super mini segment that could most benefit from this technology.
On the subject of whiplash, Euro NCAP released first-ever results from seat and head restraint tests in November. Although hard to diagnose and not fatal in nature, whiplash represents the most frequent injury seen in European accidents and often leads to long-term disability. The costs associated with whiplash put an unacceptably high burden on society. The protection offered by 25 seats was examined delivering results that were both surprising and shocking. Only five of the 25 seats tested met the state of the art performance required for good whiplash protection. More shocking were the results delivered by eight of the 25 seats, indicating a significantly higher risk for the occupant of developing a long term injury in the event of a rear end collision. Of further concern to Euro NCAP was that some of these poor performing vehicles had been awarded Euro NCAP's maximum award of five stars in adult occupant protection during their crash tests conducted earlier in the year.
Throughout the summer and autumn, Euro NCAP released results for around twenty more new cars. For the first time, Euro NCAP indicated its intention to launch a new rating system in 2009. The generally low results in the pedestrian rating achieved by these cars illustrated one of Euro NCAP's strong reasons for doing so. Most manufacturers achieve four or five star results in Adult Occupant protection for their vehicles, but Euro NCAP believes that there are other areas where lives could be saved, which are still not prioritised by carmakers. Euro NCAP's new rating system will reward the overall safety of a vehicle and offer consumers greater information about the all-round safety of their vehicles. For the first time, this assessment will include the availability of ESC throughout the model range sold in Europe. Under Euro NCAP's new scheme, vehicles will not be able to achieve five stars without its fitment.
As Dr Michiel van Ratingen, Secretary General of Euro NCAP points out 'It is imperative that Euro NCAP continues to set higher benchmarks for car makers to aspire to. We intend to reward those manufacturers that make safety their ultimate goal'.
The first results for vehicles tested under this new rating system will be released on 19th February 2009. For further information on any of the issues mentioned above and on the new rating scheme please don't hesitate to contact Euro NCAP via the details indicated below.
Euro NCAP's test results are released on a quarterly basis. Keep checking our website for details of forthcoming results. Euro NCAP's results for 25 seats put through its new Rear Impact (whiplash) test are available on www.euroncap.com. For further information please contact Euro NCAP: TEL +32 2 4007740 or e-mail.