Euro NCAP Honoured for Leadership by its Peers
19th September 2017
Last week at their 20th Anniversary Event, Euro NCAP was presented with the prestigious Innovation Award from Global NCAP in recognition of the continuous evolution of its vehicle rating roadmap. Individual Global NCAP awards were also received by former Euro NCAP chairmen Max Mosley and Claes Tingvall, for Lifetime Achievement and Consumer Champion, respectively.
At the same event, Euro NCAP received an additional award of appreciation by sister organisation Latin NCAP for its support in the establishment of the programme for Latin America, as well as a trophy from China Automotive Technology and Research Center in celebration of its 20th anniversary.
David Ward, Global NCAP Secretary General, said "Euro NCAP has emphasised the importance of AEB for vulnerable road user protection including pedestrians and cyclists, and also promotes speed assistance technology. Its new Road Map 2025 strategy takes Euro NCAP towards a vision of zero fatalities and serious injuries".
Latin NCAP Secretary General, Alejandro Furas, added: "Euro NCAP has been instrumental in the success of Latin NCAP by providing technical and strategic guidance and know-how from the start. We look forward to continue the dialog between the two programmes, to share best practice and our experiences."
Mr Feng Yi, Executive Vice President of the C-NCAP Management Center, on congratulating Euro NCAP: "It is a great achievement to have provided European car-buyers with such important information for twenty years.  The new roadmap continues to push for higher standards and we congratulate Euro NCAP, at this important point in its history, for its vision of a safer future."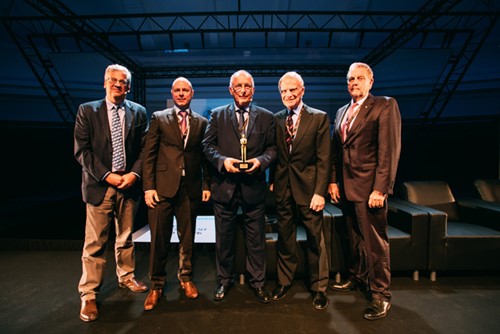 Pierre Castaing, President of Euro NCAP, said: "We are very proud of what Euro NCAP has achieved over the last twenty years.  Many thousands of lives have been saved by the improvements in safety that Euro NCAP has driven and it is an honour for our efforts to be recognised by those doing similar work in other parts of the world.  We look forward to continuing our cooperation with other road safety organisations, with Industry and, of course, with consumers."
For more media information, please contact media@euroncap.com or +32 2 4007740.