Euro NCAP awarded Prince Michael Road Safety Award
18th November 2009
2009 was an important year for Euro NCAP with the launch of its new Rating Scheme, and recognition came today as the organisation was awarded Prince Michael's Special International Award for Innovation. In presenting the award, His Royal Highness the Prince Michael of Kent recognised Euro NCAP's outstanding achievement in accelerating the introduction of safer cars to European roads.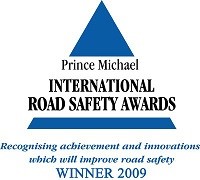 His Royal Highness described Euro NCAP as 'instrumental in designing and implementing innovative programmes that save so many lives'. The award was presented during the Make Roads Safe – a Call for a Decade of Action for Road Safety Campaign event held in Moscow, Russia today. This week, the campaign is calling on governments attending the first UN global Ministerial Conference to agree action to reduce by 50% the projected increase in road deaths to 2020.
Dr Michiel van Ratingen, Secretary General, who accepted the award on behalf of Euro NCAP, says 'we are delighted to accept this reward, which recognises Euro NCAP's work in ensuring our testing programme remains current and up-to-date with the latest safety technologies. It makes us all very proud and our hard work worthwhile. Thank you for all the support given by consumers and industry.'
Prince Michael's International Road Safety Awards are made in recognition of outstanding contributions to improving road safety. Euro NCAP was also presented Prince Michael's Premier Award and International Award for Road Safety in 2003.
The Make Roads Safe Campaign is calling for a Decade of Action for Road Safety to tackle the number of accidents on roads worldwide, which takes the lives of 1.3 million people and injures over 50 million each year.
Euro NCAP's test results are released on a quarterly basis. Keep checking our website for details of forthcoming results.
For further information please contact Euro NCAP: Tel +32 2 4007746 or email