Euro NCAP announces best in class results in a record year
11th January 2023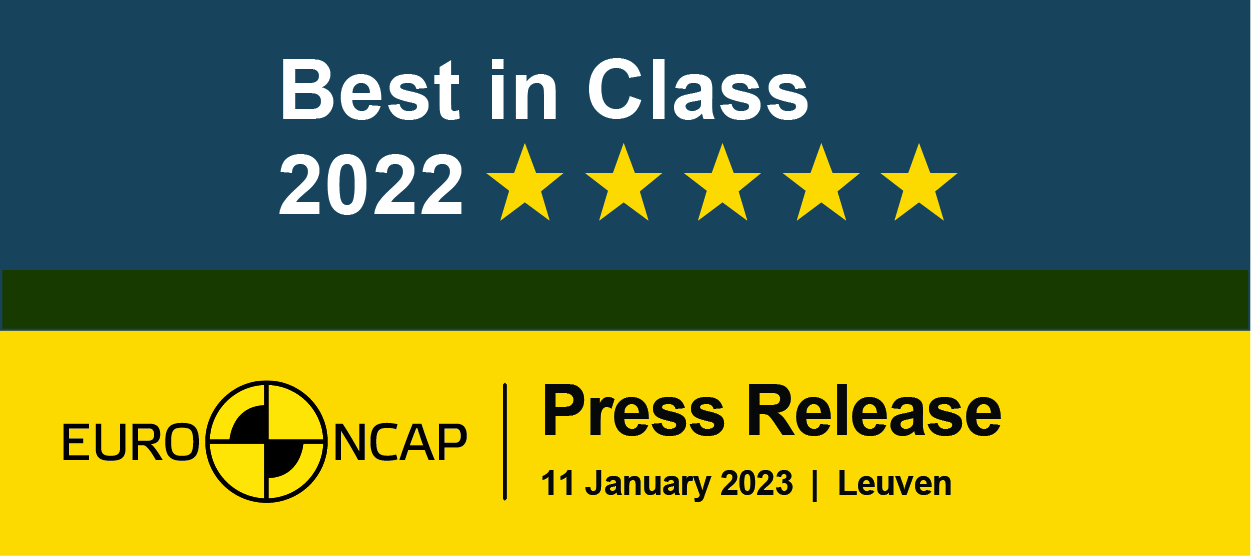 Today, Euro NCAP announces the winners from 2022, the safety organisation's busiest-ever year. These are the cars that achieved the highest overall scores, based on their results for Adult Occupant Protection, Child Occupant Protection, Vulnerable User Protection and Safety Assist technologies. For the very first time, this list includes two cars from Tesla and two Chinese newcomers to the European market. These results underline the importance of the Euro NCAP five-star rating for establishing safety, credibility, and quality in the European market for vehicle manufacturers in Europe, but also beyond Europe's borders.
The winners are the following: Hyundai IONIQ 6 wins the best-in-class award in the Large Family Car category; the ORA Funky Cat in the Small Family Car Category; Tesla Model S in the Executive Car category; Tesla Model Y in the Small Off-Roader category and finally WEY Coffee 01 in the Large Off-Roader category1.
Hyundai IONIQ 6 achieved exceptionally high results in Adult Occupant Protection with 97%. Fully electric, and with the latest safety technologies, the IONIQ 6 certainly follows the trajectory of recent automotive developments. For child occupants, the IONIQ 6 provided good protection for all critical body regions of both the 6- and 10-year dummies in the frontal offset and side barrier tests and scored maximum points in this part of the assessment.
2022 was notable for the number of new Chinese brands coming to Europe and achieving great results. Following some less-than-successful attempts to break into the European market in the past, several manufacturers are showing that Chinese brands can now compete on safety with well-established European brands. In the Small Family Car category, the ORA Funky Cat is exceptionally well equipped and, being at the top of its class, outperformed several familiar brands.
The second Chinese brand car in our best-in-class list is the WEY Coffee 01, again highly equipped and performing well in all categories. It was closely followed by the LEXUS RX, which deserves a mention here.
Tesla has made a huge impact on the European car market due to its design and ethos. The company has also been determined to make a name for its brand in safety performance. Tesla Model S and Tesla Model Y are both high achievers in Adult Occupant Protection and both vehicles achieved the highest score of 98% in Safety Assist of all the vehicles in this list. Tesla Model S is also the best in class achiever in the Pure Electric category.
2022 has been one of Euro NCAP's busiest years yet and we have seen a lot of new car makers and new technologies.  It's clear a good Euro NCAP rating is seen by car manufacturers as critical to success in Europe.  This can only mean better safety equipment and safer cars for European consumers all round
— Michiel van Ratingen, Euro NCAP's Secretary General
1  Some categories may not be represented as Euro NCAP has tested too few cars of that class in 2022.
Editor's Note
A video compilation of all 2022 Best in Class cars is available on our YouTube channel.
Journalists can find the full results on Euro NCAP's newsroom.
For media information, please contact Cordelia Wilson at media@euroncap.com.
Follow and Share
About Euro NCAP
Euro NCAP organizes crash & safety tests on new vehicles and provides motoring consumers with a realistic and independent assessment of the safety performance of some of the most popular cars sold in Europe. Established in 1997 and backed by several European Governments, motoring, consumer and insurance organizations, Euro NCAP has rapidly become a catalyst for encouraging significant safety improvements to new car design.


Euro NCAP ratings strictly apply to vehicles of the specifications offered in Europe. The ratings do not necessarily apply to models offered in other regions, even when sold under an identical name, as production specification and equipment may vary.