2009 Safety Defying Brand Expectation
25th November 2009
Euro NCAP, the organisation dedicated to revealing the safety of new cars, today releases the results for twelve vehicles. Ten of these vehicles achieved Euro NCAP's maximum award of five stars in the overall rating. However, two of the twelve results released make an important point: the consumer should not be complacent when it comes to brand loyalty.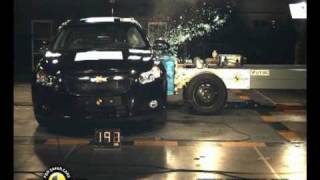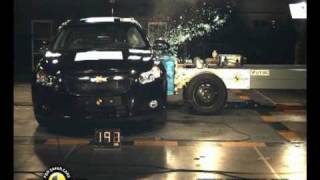 Recent surveys have shown that one of the top factors influencing a consumer's choice of vehicle is perception of the reliability of a brand. Results released today by Euro NCAP reveal that some brands can still surprise and disappoint, overturning preconceived ideas of their safety. Chevrolet made headlines in 2006 when the Aveo received a poor one star strikethrough result following a Euro NCAP test. In the past three years, Chevrolet's safety engineers have clearly made laudable investments in safety. The new Chevrolet Cruze receives a five-star result in Euro NCAP's new overall rating with an almost perfect Adult Occupant score of 96%. In contrast, Toyota has a string of five star results behind them, including the Avensis and the IQ earlier this year and more recently for the impressive fuel-efficient Prius, but today - the Urban Cruiser, tested as an initiative from a Euro NCAP member, receives a disappointing three-star rating. This was due to a weak result of 58% in Adult Occupant Protection.
 
Dr Michiel van Ratingen, Euro NCAP's Secretary General says 'We congratulate Chevrolet. The company has bounced back with two cars that have a commendable level of safety performance. The result from Toyota is disappointing, but in 2010, we predict further results like these as Euro NCAP's next stage of the rating scheme kicks in and requirements become even tougher. Consumers should check www.euroncap.com when looking to buy a new car and should NOT make presumptions about a car's safety performance due to the brand it carries. Given Euro NCAP's test and assessments continually evolve - consumers must also remember to consider the year of test when looking at results.'
 
Euro NCAP's top scorers with five star results are the BMW X1, Chevrolet Cruze, Citroën DS3, Infiniti FX, Mazda 3, Mercedes E-Class, Mercedes GLK, Opel Astra, Peugeot 5008 and the Volkswagen Scirocco. The Chevrolet Spark missed out on a five star award as Electronic Stability Control (ESC) is not fitted as standard on any variant. In contrast ESC is fitted as standard in all variants in the other cars in today's line-up - a direct result of Euro NCAP's incentive of points under the new rating scheme.
 
In this month's release, the Chevrolet Cruze, the Opel Astra and the Volkswagen Scirocco all have seats and head restraints that offer good whiplash protection.
 
The Citroën DS3, Infiniti FX, Peugeot 5008 and the Mercedes GLK have driver controlled speed limitation systems fitted as standard or soon to be introduced as standard. These systems greatly assist the driver in maintaining the safest speed according to the driving environment.
 
Look out for Euro NCAP's overview of all cars tested in 2009 on our website www.euroncap.com in January.
 
 For further information please contact Euro NCAP: TEL +32 2 4007740 or e-mail.