Side Pole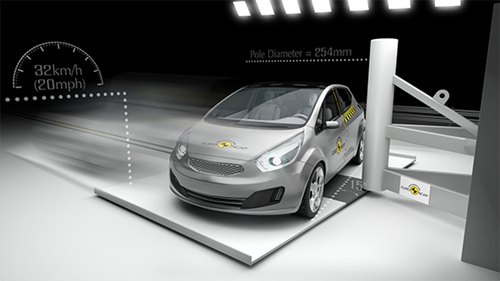 Some side impacts involve a vehicle travelling sideways into rigid roadside objects such as trees or poles. Often this is the result of a loss of control on the part of the driver, owing to speeding, misjudgement of a corner or because of a skid in slippery conditions. Such accidents are severe and the frequency of death or serious injury is high.
SOME SIDE IMPACTS INVOLVE A VEHICLE TRAVELLING SIDEWAYS INTO RIGID ROADSIDE OBJECTS SUCH AS TREES OR POLES.  
In Euro NCAP's test, a car is propelled sideways at 32 km/h against a rigid, narrow pole. The car is placed at right angles to the direction of motion, or as is done from 2015 onwards, at a small angle away from the perpendicular. Where a vehicle is equipped with a centre airbag to protect against the front seat occupants hitting each other, two average male side impact dummies are placed in the front seats. Where there is no centre airbag, single dummy is placed on the driver's seat.
This is a very severe test of a car's ability to protect the driver's head. As the loading on the car is so localised, deformation can be very high and the pole can penetrate deeply into the passenger compartment. Without effective protection, the pole would strike the head resulting in serious injuries. Head protection airbags – often curtain airbags mounted above the side windows but sometimes seat-mounted thorax/head airbags – have become a common solution but great care is needed to ensure effective performance of such devices.

 Introduced in 2001. Upgraded in 2020.