2021 Commercial Van Safety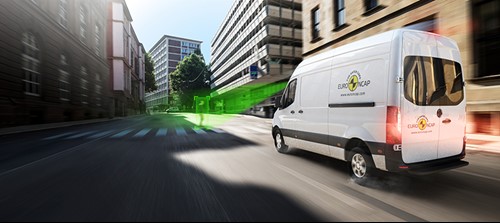 The stay-at-home economy has created a surge in demand for delivery services and, as a result, many cities have seen a rise in the number of commercial vans on their roads.  Commercial vans, or light commercial vehicles, are those vehicles designed to carry goods or specialized equipment and which weigh no more than 3.5 tonnes gross vehicle mass.  Vans are often used for professional purposes as they offer cargo flexibility and can operate without strict legal requirements for registration.  As a result, their economic life span and total kilometres travelled usually exceed those of average passenger cars.  To save development costs and maximize profits, "badge engineering" is a common practice in this segment, with a common design being shared by several manufacturers.
A van's economic life span and total kilometres travelled exceeds those of average passenger cars
With more vans on city roads, the risk of accidents involving vans increases.  Across Europe, "white van man" has earned a reputation for his low regard for safety: breaking speed limits, inattentive driving and not wearing his seat belt.  While commercial vans do not necessarily have a higher crash rate than other motor vehicles, crashes involving vans tend to be more severe for their opponent vehicles.  According to the European Commission, casualties comprise around 4 percent of total fatal or seriously injured vehicle occupant casualties.  A large percentage of these are due to loss of control, in head-on and rear-end crashes.
Key factors that play a role in commercial van crashes are the crash protection of the van itself (self-protection) and the compatibility between commercial vans and passenger cars (partner protection); as well as the inadequate fitment and limited performance of Advanced Driver Assistance Systems (ADAS), technology that can prevent crashes in the first place.
Crashworthiness of Commercial Vans
Commercial vans are taller and heavier and usually have their stiff structures at a greater height than those of passenger cars. Typically, they carry fewer occupants but hold a larger load. In a crash, the geometric misalignment, stiff structures, and higher mass tend to penalise the occupants of the smaller vehicle, resulting in a higher likelihood of a serious injury or fatality in the passenger car.
Occupant safety of commercial vans has only partially benefited from the advances in vehicle safety in the last decade. The fitment of advanced restraint systems is generally poor. For instance, of 19 popular van models examined, only six offer two frontal airbags as standard and none has standard side curtain airbags. Specifically, the protection of the passenger is overlooked, as basic seat belt reminders, airbags and belt load limiters on the passenger seat are often lacking.  This is in stark contrast to people carrier variants, that have been tested by Euro NCAP and consequently offer standard fitment of such equipment.
Crashes involving vans tend to be more severe for the opponent vehicles
ADAS Test Series
To accelerate fitment ahead of what will be mandated by the EU General Safety Regulation (GSR), and to influence purchasing decisions for safer choices, an ADAS fitment survey was carried out, and a series of ADAS tests were conducted on the best-selling commercial vans on the European market.  Combined, these vans cover about 98 percent of the new van sales in 2019 and represent the European situation well.
The fitment of each system was checked from publicly available sources in the biggest European markets (France, Germany, Italy, Spain, UK), plus Sweden, the Netherlands and Luxembourg.  In a second stage, the data was verified by the vehicle manufacturer.  The availability (standard, optional or not available) is shown in a graphical format with a corresponding table for each van, system and market respectively.
Available ADAS functions (whether optional or standard) on each commercial van were tested using Euro NCAP Safety Assist protocols, adapted to commercial vans where needed.  Each van was carrying half of its permissible loading mass, a typical load for a commercial van in daily use.  In addition, a Seat Belt Reminder assessment was carried out for each van.
The test scores of each system were weighted and combined into an overall score for each van.  This weighted overall performance score places each van tested in one of the following categories.
| | |
| --- | --- |
| Category | Weighted Overall Performance Score |
| Platinum | Equal or larger than 80% |
| Gold | Equal or larger than 60% |
| Silver | Equal or larger than 40% |
| Bronze | Equal or larger than 20% |
| Not recommended | Below 20% |

Results
Safety Concerns
Commercial vans will always be tall and heavy in comparison to most other vehicles and their designs are slow to change. Improving vehicle compatibility between all types of vehicles on the road is a priority for Euro NCAP and the introduction of the mobile deformable barrier test is a first step towards this goal.  This, however, is a slow process that will take many years.  On the other hand, Advanced Driver Assistance systems can prevent crashes from happening in the first place and their availability can be improved by vehicle manufacturers and importers much quicker.
Our fitment survey reveals that ADAS fitment on commercial vans across Europe is generally poor, in stark contrast to what is the case for passenger cars today.  Euro NCAP experienced significant problems, not only in understanding what is being offered by vehicle manufacturers based on marketing information, but also in finding concrete examples of vans equipped with "available" ADAS.  In some instances, claims made by vehicle manufacturers could not be independently verified, nor could equipped vans be procured in a reasonable time frame.  If available, ADAS is mostly available as option, with very few exceptions.
Best brands in terms of availability are Ford, VW and Mercedes-Benz, worst are FIAT, Nissan and Renault.
Put to the tests, the ADAS systems performed fairly well, but some noticeable differences to passenger cars were observed.  Only a few commercial vans offer the latest functionality, such as pedestrian and cyclist detection, while such technology offers great benefits in a city environment.  Some vans offer lane support systems, blind spot detection, lane departure warning or lane keep assist, but in testing these weren't as effective as those on average passenger cars.  Speed assist technology, if at all present, is mostly manual set, and lacking a speed limit information function.  Seat belt reminders are mostly standard for driver but absent for front passengers.
The best vans tested were Volkswagen Transporter, Ford Transit and Mercedes-Benz Vito.  The FIAT Talento, Renault Trafic , Renault Master, Opel Movano and Nissan NV400 are not recommended by Euro NCAP, as they are very poorly equipped or have no driver support systems available.
---