2016 Quadricycles' Tests
Euro NCAP's first tests on heavy quadricycles in 2014 revealed major shortcomings in safety and the organisation called for tighter legislation from the regulators and for quadricycle manufacturers to take more responsibility for the safety of their products. Since then, more quadricycles have come onto the market and an updated European regulation has come into force. Euro NCAP's 2016 campaign examines what has changed in this segment in the last two years and introduces a star rating for this segment to help consumers in their purchase decision.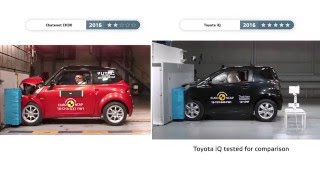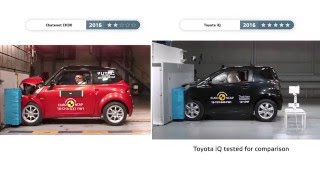 CRITICAL STRUCTURAL SHORTCOMINGS AND INADEQUATE RESTRAINT SYSTEMS ADD UP TO UNACCEPTABLY HIGH RISKS OF FATAL OR SERIOUS INJURY, EVEN AT MODERATE TEST SPEEDS.
The latest results show that little progress has been made, with test findings that are as bad as two years ago. The Microcar M.GO by Ligier now offers a driver airbag as an option but tests show this to be ineffective. Without simple but critical structural modifications, the airbag offers no increase in protection and appears to be little more than a marketing ploy to create an impression of additional safety. Similar structural shortcomings have been observed to those seen on the Ligier tested two years ago, including separation of major structural components. 
Together with inadequate restraint systems, these add up to unacceptably high risks of fatal or serious injury, even at moderate test speeds. Quadricycles are not subject to the same legislation as M1 passenger cars. Nevertheless, these vehicles look like small city cars and are likely to compete for sales. But their performance in Euro NCAP's tests are far below a similarly-sized passenger car which can be bought second-hand more cheaply.
Model
Front Score
Side Score
Stars
Aixam Crossover GTR
2 out of 16
10 out of 16
1 star
Bajaj Qute
4 out of 16
6 out of 16
1 star
Microcar M.GO Family
4 out of 16
6 out of 16
1 star
Chatenet CH30
6 out of 16
6 out of 16
2 stars
Toyota iQ

*

12 out of 16
12 out of 16
5 stars
 * Euro NCAP has tested the Toyota iQ 'microcar' in identical test conditions as the quadricycles to highlight the differences between the quadricycle and passenger car categories. The official Euro NCAP rating of the iQ tested in 2009 can be found on our website.
Simple design changes could make quadricycles much safer and Euro NCAP again calls on regulators to take consumer safety seriously and on manufacturers to invest in safety and to offer customers vehicles which are fit for modern traffic conditions.