2013 AEB Fitment Survey
About the Survey
Euro NCAP's fitment survey looks at the availability of Autonomous Emergency Braking (AEB) systems on variants in a model range. The survey was first conducted in June 2012 when Euro NCAP announced its intention to include an assessment of AEB systems in a car's star rating from 2014 onwards. With test protocols now in place, the survey has been repeated to see how fitment has changed in the last 14 months or so. 
In 2012 and 2013, the vehicle manufacturer indicated whether AEB is standard equipment, an option or is unavailable on each variant in a model range, for each country in the European Union. This information is illustrated by the coloured bars which show the proportion of the range with each type of fitment. 
IN 2013 MOST MANUFACTURERS STILL DO NOT HAVE AN AEB SYSTEM ON ANY OF THEIR MODELS.
The information is also aggregated across all of the models sold by the manufacturer. If a manufacturer is not included in the table, they do not currently offer an AEB system on any of their models.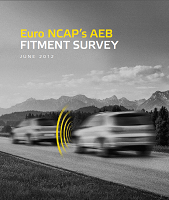 Separate results are given for AEB systems that operate at low ("City") and higher speeds ("Inter-Urban"). Read our 2013 AEB Fitment Survey.
Progress, But Too Slow
In 2013, most manufacturers still do not have an AEB system on any of their models. Those manufacturers who had a system available in 2012 continue to do so in 2013 and the rates of fitment have, in general, shown a modest increase over last year.

Select a make to see the AEB fitment rate in different countries