2010 Electronic Stability Control Tests
What Are ESC Systems ?
Electronic Stability Control (ESC) is an active safety technology that improves a vehicle's dynamic stability by detecting loss of control and helping the driver regain of control of the vehicle. ESC does not protect occupants in a crash, but helps to avoid the crash in the first place. In 2006, Swedish research showed that ESC reduced crashes with personal injuries, especially serious and fatal injuries.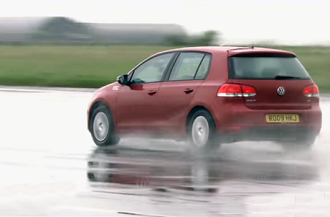 The effectiveness ranges from at least 13% for car occupants in all types of crashes with serious or fatal outcome to a minimum of 35% effectiveness for single/oncoming/overtaking serious and fatal crashes on wet or icy road surface.
About the Tests
ESC systems are assessed by performing a series of tests in which steering and yaw behaviour can be simultaneously evaluated. These are called the "sine-with-dwell" tests and are based on an actual double lane change manoeuvre. They are carried out at 80 km/h with sudden steering wheel rotations up to 270 degrees.
A car will pass the "sine with dwell" test when it has met three criteria. The first criterion is the lateral, or sideways displacement, which must be more than 1.83m. In other words, the sideways displacement must be sufficient to actually change lane as intended to avoid the object that was in your lane. After successfully achieving the lane change, the car must stay stable.
ELECTRONIC STABILITY CONTROL IS REGARDED AS THE BIGGEST CAR SAFETY INNOVATION SINCE THE SEAT BELT
This is verified with two additional criteria that determine the yaw-rate after the steering manoeuvre is completed. They may be only a small percentage of the maximum yaw-rate during the steering manoeuvre to ensure that the car will follows a straight path after the steering input. In the first series of tests, Euro NCAP has verified the ESC performance of car models that were crash-tested in the 2009 and 2010 programme. For cars that allowed the ESC system to be switched off, tests were carried out with ESC ON and OFF.
2009 ESC Tests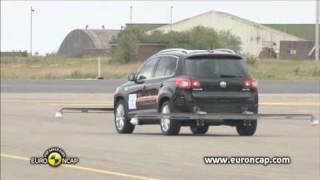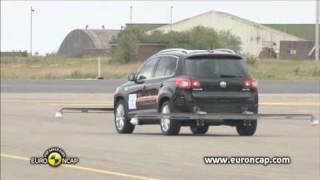 2010 ESC Tests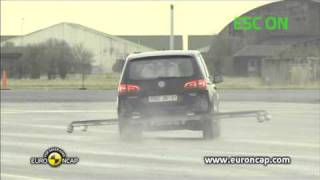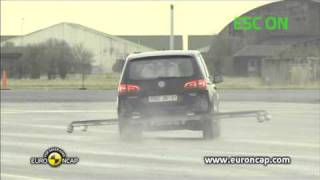 Comments
In 2009 Euro NCAP began awarding three Safety Assist points to a car if ESC is fitted as standard across the model range, or if it is an option on every variant and the manufacturer also expects to sell at least 95 percent of cars with the system as standard equipment. Since 2011, "sine-with dwell" tests have been performed on all cars that meet the fitment requirements and the test results can be found under Safety Assist. As of November 2014, all cars sold in Europe must have a ESC system that meet the legal requirements and Euro NCAP has stopped its dynamic testing.